Field Training Exercises (FTXs)
The Terrapin Battalion conducts 1-2 FTXs per semester. These are 3-4 day training exercises held during the semester, usually at either Fort George G. Meade or Fort A.P. Hill. During the Fall, cadets practice their land navigation, basic soldier skills, marksmanship, and tactics. During the Spring, cadets focus exclusively on their tactics, conducting 4 missions a day. During tactics FTXs, cadets are provided with actual weapons by the Maryland Army National Guard and blank ammunition, to familiarize them with the equipment they'll be using in the Army and the sights and sounds of actual combat. Our last FTX of the year is a Joint Field Training Exercise, held together with Bowie University and the University of Delaware. This allows cadets to experience being thrown into an unfamiliar platoon and expected to lead a mission in preparation for Advanced Camp.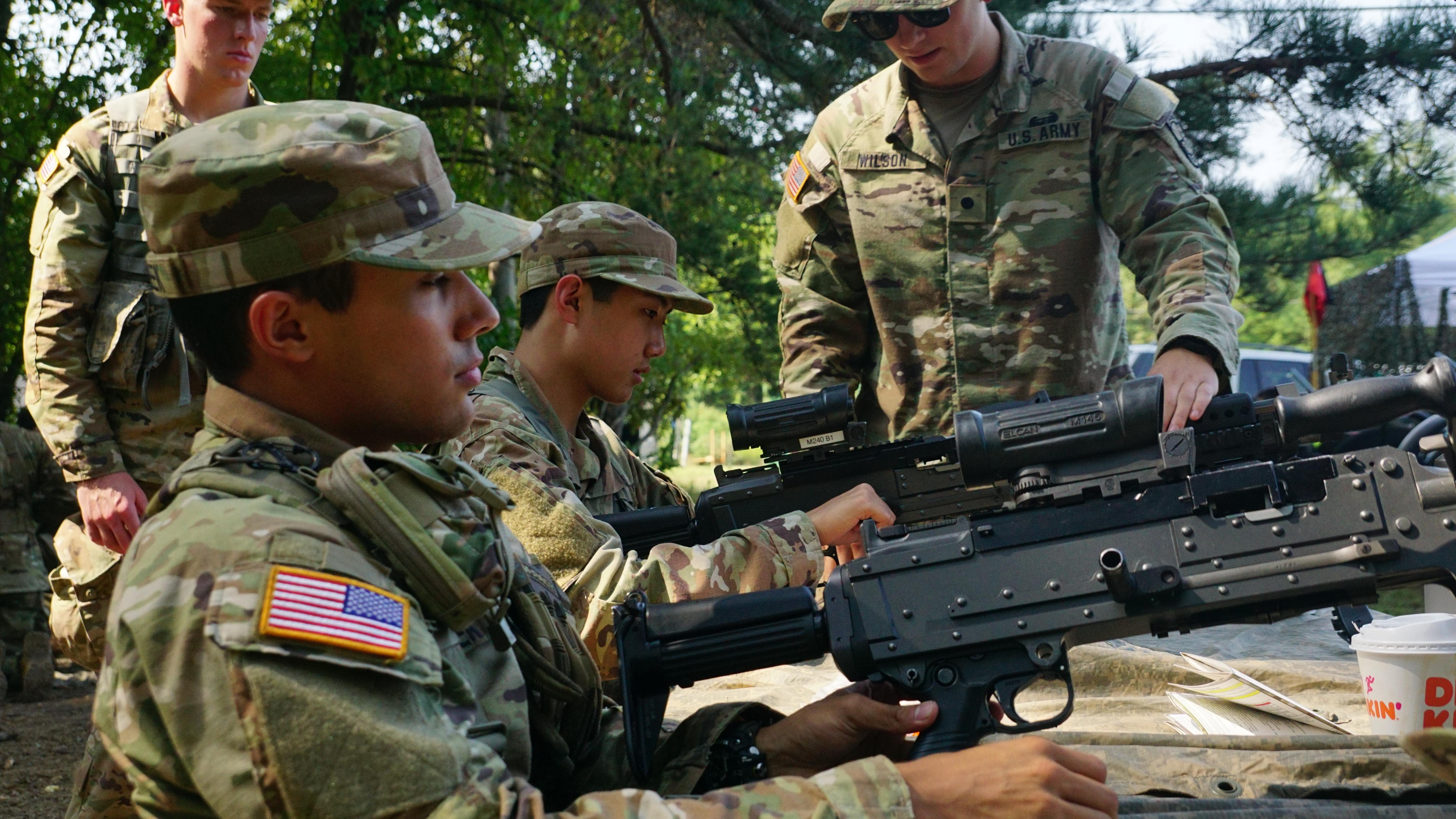 Advanced Camp
Advanced Camp is a 35-day course at Fort Knox, KY, that cadets attend over the summer between their junior and senior year. It is designed to both train and evaluate cadets in Basic Soldier Skills, tactical expertise, and leadership skills. The curriculum is divided into:
 
Land Navigation: Cadets demonstrate their ability to perform basic land navigation skills during day and night conditions on a verified course in varied terrain where they must find 3 of 4 Points in 4 hours on day course and 1 of 2 points in 2 hours on the night course. 
Tactical Combat Casualty Care (TCCC): Cadets are trained and evaluated on providing first aid to casualties in combat situations, using the casualty's Individual First Aid Kit.
Chemical, Biological, Radiological, Nuclear Training (CBRN): Cadets learn to correctly wear, operate and have confidence in their CBRN clothing and equipment. After cadets are evaluated on the speed and precision of donning their protective equipment they enter the CS chamber, where they will experience actual tear gas (both with and without a gas mask).  
 
Rappel Tower: Cadets complete the rappel course, which begins with learning to tie a Swiss Seat. They then practice with a slanted 10 ft. wall before moving on to the 64 ft. tower, rappelling against the wall and on the open side.
 
Basic Rifle Marksmanship (BRM): Cadets learn the fundamentals of marksmanship through dry-fire exercises and Engagement Skills Training (a virtually simulated range) before zeroing their rifles. Cadets then conduct a Battle March and Shoot before qualifying on the M4 using the new pop-up target Table VI.
FLRC: The Field Leader Reaction Course builds teamwork among cadet squads in a tactical environment. Squads are presented with 12 different problems, usually a mixture of an obstacle course and a practical engineering problem, to solve in under thirty minutes
Tactical Exercises: Cadets participate in and lead tactical missions, ranging from Attack and Raid to Reconnaissance and Area Defense. This part of Advanced Camp is divided into Wolverine, Panther, and Grizzly Phases. Each phase increases in mission complexity and difficulty.